Sunday October 22, 2017
Promise 7 – Island Style boat trip to Santa Cruz Island.. learning to play and have fun in our lives!
Join fellow ACA's for a day boat trip to SANTA CRUZ ISLAND at Channel Islands Park.
Advance reservation and payment directly with Island Packers ($54/senior & $59/person) is required.
Check in 8:15am at 1691 Spinnaker Drive, Suite 105B, Ventura, CA 93001. Island Packers boat leaves Ventura Harbor 9:00am to Prisoner's Cove and departs Santa Cruz Island at 3:30pm returning to Ventura Harbor at 5:15pm.
John K. 805-390-6115
Jannelle 805-727-1513
---
ACA Workshop 10 Sept 2017 in Thousand Oaks, CA
Chapter 8 – "The Next Step" – The Solution: Becoming Your Own Loving Parent – A Workshop on Learning How to Love Yourself.
September 10th 2017 – 11:00am to 1:00pm – 300 McCloud Ave., Thousand Oaks, CA
In Recreation Room of Oaknoll Villas – 2 blocks from Oaks Mall off Hillcrest & McCloud – Fellowship carpooling recommended.
For more information: Email: ch.8thenextstep@gmail.com
---
ACA Annual Business Conference and World Convention April 20-23, 2017 in San Diego.
Talk – Trust – Feel
---
Saturday, March 4, 2017, in Ojai ACA
"Stepping it up… One Day At A Time Workshop"
An ACA Workshop Focusing on Steps 10, 11, 12.
Join us in Ojai for a day of informative speakers, recess, stuffed animals, and yummy food.
Learn to deepen your understanding into these three valuable and timeless Steps.
What to bring:
– Journal & ACA books
– Your inner child
– A friendly stuffed animal
– A photo of your child self
When: Saturday March 4, 2017
Where: Saint Andrews Church – 409 Topa Topa Drive, Ojai, CA 93023
Time: 9:00AM – 3:00PM
Potluck: Please bring a dish to share. Water, tea & coffee provided.
Contact: Charles: 805-310-7140 and Onella 805-550-9234
Suggested donation: $5.00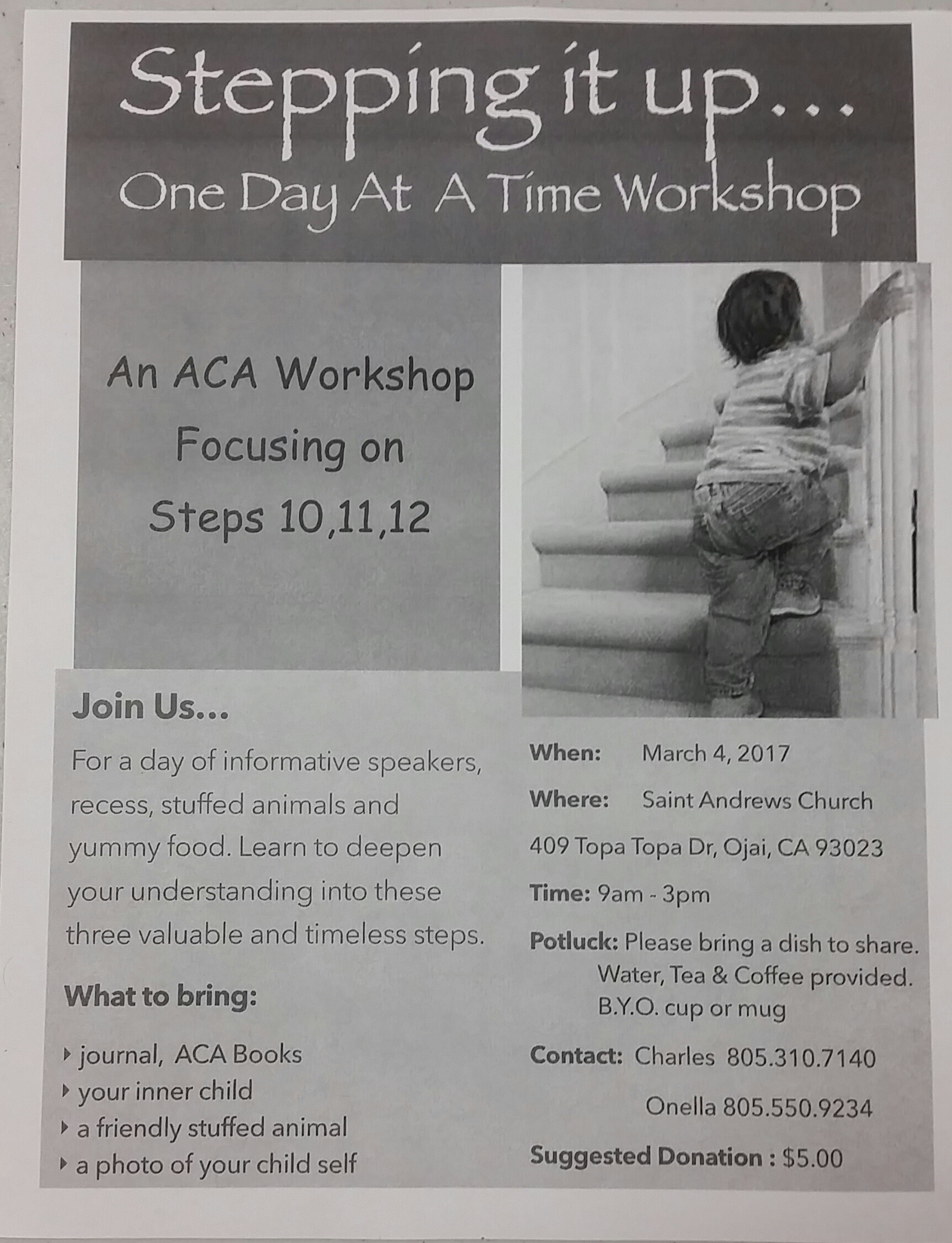 ---
SB-ACA Step Workshop
Saturday, May 21st
10 am – 4 pm
Trinity Lutheran Church
909 N. La Cumbre Road
SB 93110
This workshop will help participants work the 12-Steps of ACA. There will be a speaker addressing each step, time for sharing, and panels. This workshop will be a safe place to explore the unique elements of the individual steps and to share experience, strength and hope!
A potluck lunch will be served as well as coffee and tea. For more information, or to volunteer, contact Isabelle at iwalkerinsb@gmail.com or 805-886-0937
---
---
Join us to celebrate the life of our fellow traveler, John Robert Luther
on 

Friday, April 8

th
at

6:30 pm
Location:
The Unity Church of Santa Barbara
227 E. Arrellaga
Santa Barbara, CA 93101
We will meet in the youth room downstairs
This memorial service is open to John's family and all 12 Step Groups

For John Luther Flyer Please click here.
---
---
WORKSHOP sponsored by Santa Barbara ACA Intergroup 
February 27, 2016
RECOVERY & TRANSFORMATION OF THE HEART
by
Esoteric Interpretation of the Myth of Joseph,
view selected clips of film, reflect, and
meditate with Rumi's poetry, music, and participate in movement
On the Theme of Surrendering, to Reunite with Higher Self
"Your task is not to seek for love, but merely to seek and find all the barriers within yourself that you have built against it."  Rumi
As Rumi suggests, the myth of Joseph reminds us to become aware that each of us at some point in our life had sold our inner Joseph, the archetypal figure of  our Eternal Self, into slavery by betraying it, as had the brothers of Joseph, and now we have the desire to claim it back, to reunite with it. Losing this Origin has cost us a lot of predicaments, pain, anxiety and depression.
Workshop leader:  
Mahnaz Anissian, ACA
Ph.D. in Depth psychology
License in Marriage & Family Therapy
Masters in Dance/Movement Therapy
Date & Time: Saturday. February 27th 2016
10 am sign-in and socializing
10:30 am – 4 pm workshop*
12-1 potluck lunch
Cost:     Free, Love offering donation
Location:  Trinity Lutheran Church
909 N La Cumbre Rd, Santa Barbara, CA 93110 (Foothill Rd. and La Cumbre)
*Workshop includes:  Film clips (foreign with subtitle), Rumi poetry, Movements, and Reflection.
**Monthly Speaker Meeting will follow this event at Unity Church (6:30 pm).
---
---
An ACA afternoon of kayaking/paddle boarding, fellowship and a beachside meeting in Santa Barbara!
When: Saturday, October 17th, 2015
Time: 11:30AM
Where: The Dolphin statue at Sterns Wharf
Here's the plan: Meet at the dolphin statue at Stern's Wharf in Santa Barbara. Your mission, to decide just exactly how you want to have fun! Here are the choices:
Paddle boarding or kayaking starting at $15 per hour
Renting a bike (for 2 or 4 people) $10 to $29 per hour
Explore Sterns Wharf or Santa Barbara's Harbor
Once we have everyone out of the water, we will gather and go grab a bite to eat. Long Boards is on the Wharf and is large enough to house us all. Everything available to do is within a block or two and there is plenty of parking available. And of course, there is always State Street to investigate and the art show on Cabrillo street to discover…
We will end our afternoon together with a meeting on the beach. Umbrellas, blankets, swimsuits and chairs optional!
Please R.V.S.P. so we will have an idea of how big a group we will have.
ACA Fun Day for 10-17-15 (flyer)
---
---
Many past events can now be viewed by looking in the website archives (viewable in the lower right panel) by their date and are not longer posted on this page but saved there.
---
---
April 26 in Orcutt – Dinner & Movie after the 4:00 ACA meeting. Dinner at the Chinese place by Rabobank or the new  Jaffe Café (if it is open) and then movie at the old Edward's movie theater ($3.50/person).  Bring your family/friends or just yourself!
---
---
March 22 in Orcutt – ACA Fire Circle Social Gathering – Following the regular Sunday 4-5pm Orcutt ACA meeting, there will be a fire circle gathering at a nearby member's home. All ACA members are welcome to attend the meeting and gathering. There may be carpools from Santa Barbara.
---
---
February 27-29 ACA International Convention in Redondo Beach.
The printed hand outs and recordings of the convention speakers are available for free download from the convention website. Link to convention page: http://www.acaconvention.org/
---
---
November 8 Ojai ACA Art of Gratitude Workshop and Social Gathering. Ojai is hosting this 1pm to 8pm afternoon of interactive workshops for feeling and healing with RECESS for fun and games. Chili, cornbread and salad will be served for dinner  (side dishes or desserts are optional and appreciated) with a talent show. Do you have a talent you want to share? Contact Charles: (805) 310-7140  or Cynthia: (805) 798-2930. Any members who like to play music and/or sing are welcomed to join in with the group of entertainers who will be performing during the evening portion of the event. Please contact us to get on the bill. St. Andrew's Church/Parish Hall, 409 Topa Topa Drive, Ojai CA. $10 Suggested Donation. All are Welcome Please RSVP to Lauri: (805) 794-0397
Ojai ACA Art Of Gratitude Workshop Flyer Nov 8, 2014
---
---
September 27 in Santa Barbara – ACA SOUL CARDS Workshop. Some of you SB ACA "oldtimers" may remember the brilliant collage making activity that Lynne facilitated at our first SB ACA Retreat on the Gaviota Coast in early 2013. This ACA Soul Card Workshop with potluck lunch will happen at Trinity Lutheran Fellowship Hall at 909 N. La Cumbre Road at Foothill Road from 10AM to 5PM where participants will create a collage style "SOUL CARD" of their very own and have a chance to share about it with others. Very cool concept!
Soul Collage Card Workshop Flyer
September 19-21 in San Bernardino Mountains – 26th Annunal Fall Mountain Retreat – Theme: Claim your Baggage, Claim your Life – with meetings and speakers, hikes, talent/no-talent show, arts & crafts, pool, jacuzzi, massages, and much more..
Flyer cover: http://repository.adultchildren.org/images/2826585401329_FMR_RETREAT_FLYER-2014a.jpg
Flyer inside: http://repository.adultchildren.org/images/mps_flyers/2826585401329_FMR_RETREAT_FLYER-2014b.jpg
---
---
July 12 in Santa Barbara – 10am to 5pm ACA Workshop – Nancy M., who was a workshop leader at the 2014 ACA World Convention, will be traveling from Las Vegas to lead our SB-ACA workshop. There is no fee for this workshop. All ACA members, newcomers, and anyone interested in ACA recovery are welcomed to attend. Please bring a potluck lunch item, writing materials, and a donation to help with venue rent & supplies.
Workshop Schedule:
10 – 10:30 Sign-in & Social
10:30 – 12 First Step Elephant Training
Laundry List effects of family dysfunction & defining powerlessness & learned helplessness, tools of recovery to understand how we help ourselves, the solution of being our own loving parent, and discovery of our personal power.
12 – 1 Potluck Lunch
1 – 2:30 Breaking the Pattern of Victim Mentality
Living from the viewpoint of victims, ways to shift into accepting life on life's terms, how the inner loving parent helps in how I see the world through the conditioned lens of my childhood, and waking from imprisoning beliefs that color my mental stories.
2:30 – 3 Break
3 – 4:30 The ACA Solution and Promises
How the Solution prompts shifts in how we relate to life and experience gratitude, and how we practice making the Promises come true in our lives.
4:30 – 5 Closing
5 – 6 Social & Clean-up
6:30 Restaurant Dinner; Location TBD
Workshop flyer: SB ACA Workshop Flyer 071214
June 21 in Grover Beach – Communication for Conflict Situations Workshop at Grover Beach